How To Become A Collaboration Superpowers Facilitator!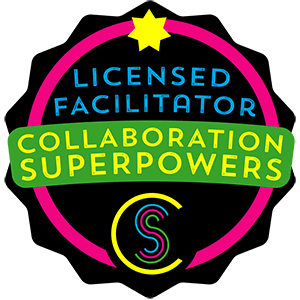 Online
February 15, 16:00 — 16:30 CET
Join us for a special event on how to become a Collaboration Superpowers facilitator!
You will meet Lisette Sutherland, founder of Collaboration Superpowers, workshop architect, facilitator, speaker, and author of the Work Together Anywhere handbook.
If you're serious about facilitating workshops or making a difference in your company or within your team, this is the webinar for you.
Lisette will share with you what it takes to be successful in this role as well as some of her favourite tips and tricks for making your workshops sparkle.
She will discuss the following:
→ What it means to be a Collaboration Superpower Facilitator and how our workshops help organizations and individuals alike!
→ The 5 critical ingredients that can transform your workshops from just another training to a life-changing experience for every participant.
→ Why the world needs what we have to offer!
→ Who qualifies for our facilitator training, and how to sign up.
→ Plus an overview of the vast array of ready-to-use, coaching and workshop materials you'll have access to + inspiration from facilitators already in the program!
Online
February 15, 16:00 — 16:30 CET