Kanban: Personal Productivity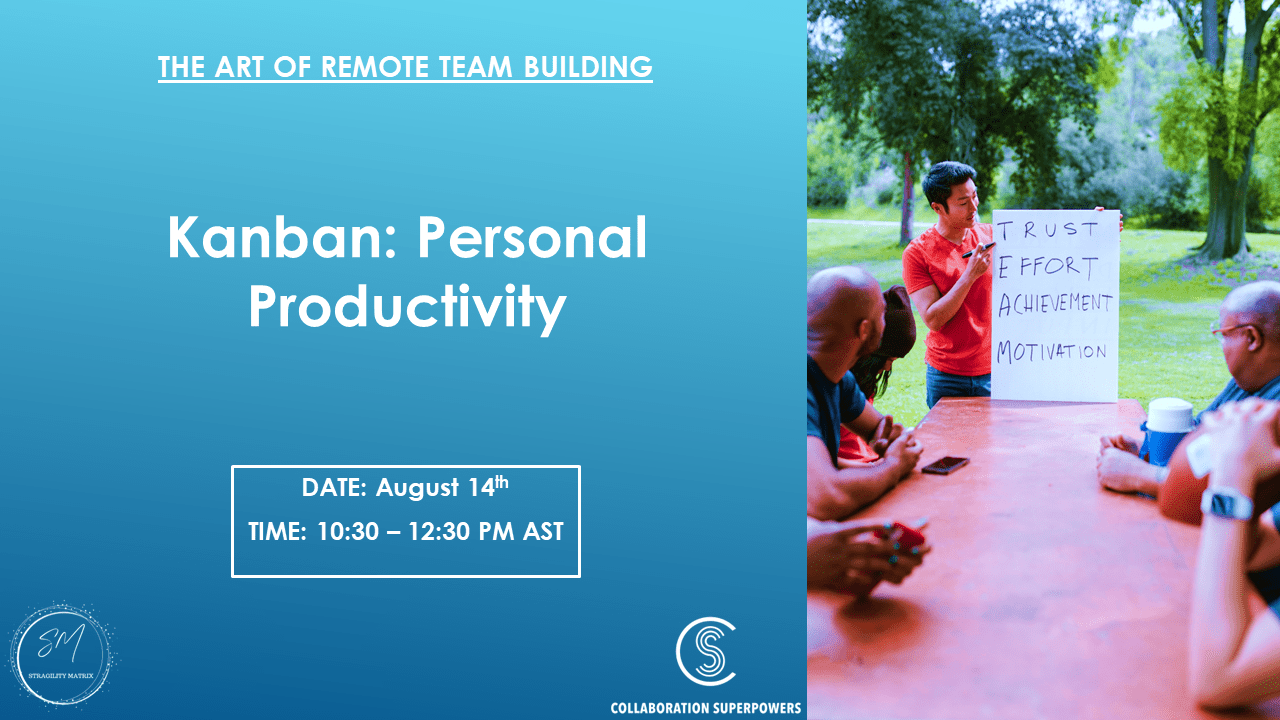 Online
August 14, 10:30 — 12:30 AST
The Art of Remote Team Building

Series Description:
In today's increasingly remote work environment, team building has never been more important. Building a strong, cohesive team is essential for maintaining productivity, boosting morale, and achieving success. But how can you build a great team when you're not in the same room? That's where "The Art of Remote Team Building" comes in.
This course series is designed to equip you with the tools, techniques, and strategies you need to build and maintain a high-performing remote team. Through a series of interactive and engaging courses, you'll learn how to overcome the unique challenges of remote team building, foster communication and collaboration, build trust and rapport, and create a culture of success.
Course Title: Kanban: Personal Productivity

2-hour interactive online training
We will meet from 10:30 - 12:30 PM AST (Atlantic Standard time, check your time zone HERE)
Course Description:
The task of balancing personal and professional life can be particularly daunting for remote employees, who often feel pressured to prove their value by showing high levels of productivity, making it even more challenging to manage both aspects of their life.
This course is designed to teach you how to use Kanban methodology to achieve your personal goals. Kanban is a visual tool that helps individuals and teams manage their workflow and improve their productivity. In this course, you will learn how to apply Kanban principles to your personal life and create a system that helps you prioritize your goals, track your progress, and achieve your desired outcomes.
Attend this course if you want to improve:

Time management skills

Your ability to overcome procrastination

Productivity

Organization of workload/task

Work-Life Balance

Goal Achievement

Management of Resources
Through a series of interactive lessons and exercises, you will learn how to:

Identify and prioritize your personal goals

Break them down into actionable tasks

Track your progress using a Kanban system

Manage distractions

Optimize your workflow

Maintain motivation throughout the goal achievement process
By the end of the course, you will:
Have a basic understanding of Kanban

Know how to create and manage a personalized Kanban System

Inspiration for your own Kanban system
Whether you're looking to improve your work-life balance, improve your health, start a new hobby, or achieve a long-term goal, this course will give you the tools and techniques you need to succeed. Join us today and start achieving your personal goals with Kanban!

Workshop Discounts:
If you qualify for a workshop discount, please reach out to us at training@stragilitymatrix.com, and we will provide you with additional details.
If you register 1 additional person, you get a 50% discount.
If you register 2 additional people, your ticket is free.

Cancellation Policy:
If cancellation of your registration is required, please send us a written notification at training@stragilitymatrix.com, mentioning the name of the workshop in the subject line of your email.
We will refund 100% for cancellations received 2 weeks before the workshop.
We will refund 50% for cancellations received 1 week before the workshop.
We will issue no refund for cancellations received within 48 hours. However, you'll have the option to reschedule your attendance to the workshop for a later date.
N.B: Invoices must be paid before the workshop starts!
Online
August 14, 10:30 — 12:30 AST