The Connected Hybrid Leader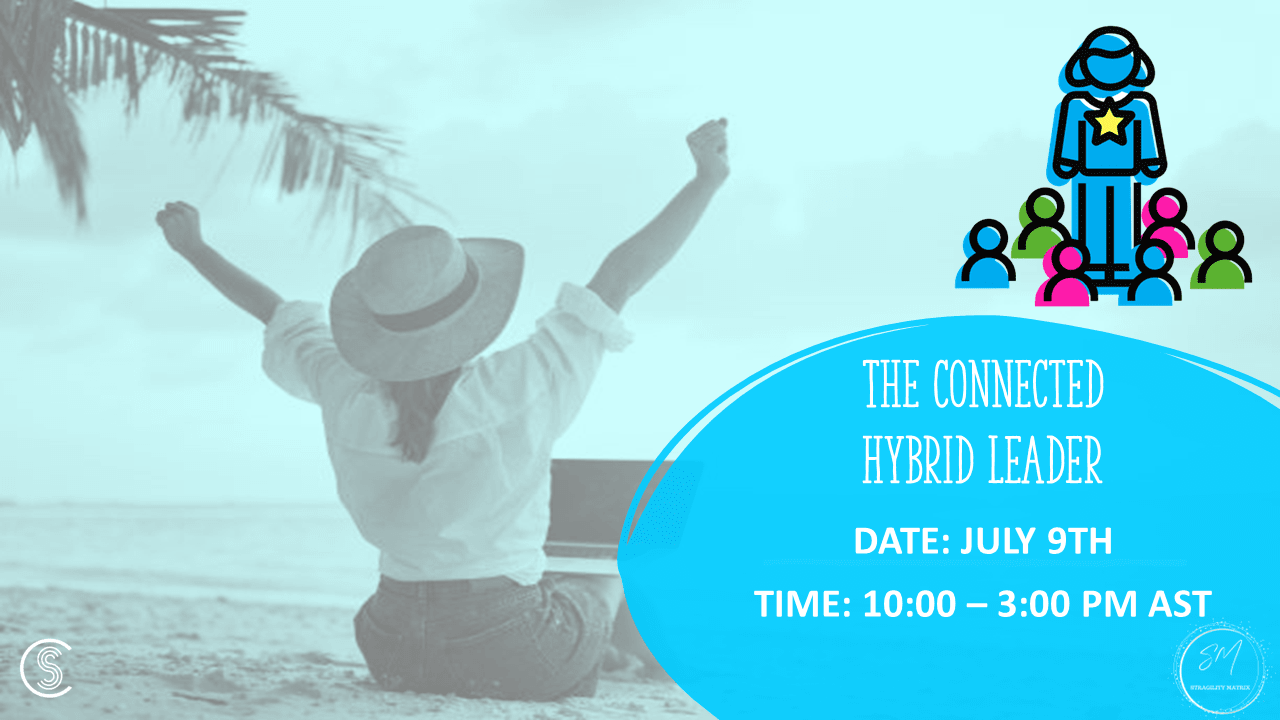 Online
July 9, 10:00 — 15:00 AST
5+ hour interactive online training
Successful hybrid leadership results from a finely tuned, consciously chosen combination of skill set, mind set, and tool set. In this workshop, we will discuss what it takes to be a successful hybrid team leader and how to use hybrid working to your team's advantage.
We will meet from 10:00 - 3:00 PM AST (Atlantic Standard time, check your time zone HERE)

Caribbean nationals will be offered a 20% discount, photo of ID will have to be provided to receive discount code.
You will learn:
Management and leadership techniques for hybrid teams
Hybrid working norms: finding the balance between async & sync communication
Techniques for reducing the meetings you need, and improving the ones you have
Tips for team building in a hybrid environment
Who this workshop is for:
Managers/HR Leaders/Consultants working with remote colleagues.
Agile Practitioners (Scrum masters, Agile coaches)
Virtual meeting facilitators
Lean change agents
You'll receive:
Access to resources.
Discount to supercards.
A leadership-focused Workbook that can either be printed or completed electronically.
BONUS PACKAGE (optional):

You'll receive a 60 minute private coaching session to either review your workbook responses, assist you with any goals you want to achieve or any challenges you may be facing.
TEAM BUILDING & NORMS
Module content:
✔ Virtual leadership principles: How is leading a hybrid team different than leading in person? What leaders can do to enhance "remote first" working principles.
✔ Hybrid working norms: What do we need to be productive (individually)? How do we align and work towards a common goal as a team? How do we find a new balance of asynchronous vs synchronous working?
✔ Team building: Building personal connection without scheduling another meeting.
MEETING, METRICS & FEEDBACK
Module content:
✔ Productive meetings: How do we decrease the number of meetings we need and improve the meetings we're having through design, infrastructure, and facilitation.
✔ Performance metrics & frameworks: How do we set up a useful ecosystem of metrics that provides useful feedback and helps teams learn?
✔ Feedback & appreciation: How do we set up effective feedback loops for continuous team learning and improvement.

Workshop Discounts:
If you qualify for a workshop discount, please reach out to us at Stragilitymatrix@outlook.com, and we will provide you with additional details.

If you register 1 additional person, you get a 50% discount.
If you register 2 additional people, your ticket is free.

Cancellation Policy:
If cancellation of your registration is required, please send us a written notification at Stragilitymatrix@outlook.com, mentioning the name of the workshop in the subject line of your email.

We will refund 100% for cancellations received 2 weeks before the workshop.
We will refund 50% for cancellations received 1 week before the workshop.
We will issue no refund for cancellations received within 48 hours. However, you'll have the option to reschedule your attendance to the workshop for a later date.
N.B: Invoices must be paid before the workshop starts!
Online
July 9, 10:00 — 15:00 AST
$155.00
Regular + BONUS Package