Work Together Anywhere Workshop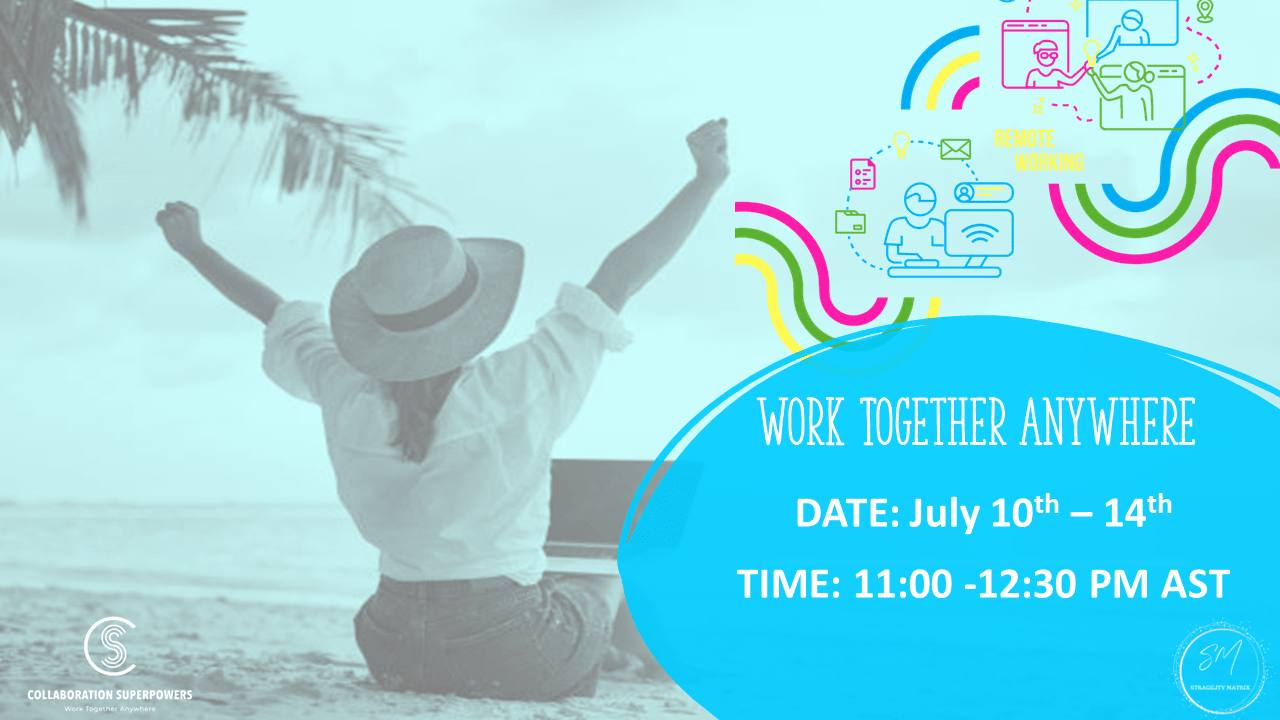 Online
July 10, 11:00 —
July 14, 12:30 AST
6+ hr interactive online workshop
Remote communication is the #1 challenge for virtual teams: how do we deliver the same results that we deliver when we work together in the same room?
The Work Together Anywhere Workshop is a online experience that gives managers, coaches, and knowledge workers a roadmap for successful remote and hybrid working. You will walk away with an action plan of techniques and tools that you can try immediately.
The workshop is four 90-minute, interactive online sessions where we get to push all the remote buttons. We will meet from 11:00 - 12:30 AST (Atlantic Standard time, check your time zone HERE) on the following days:
July 10th - Create team agreements
July 11th - Facilitate great online meetings
July 13th- Online collaboration & team building
July 14th- Feedback, appreciation, and celebrations
Caribbean nationals will be offered a 20% discount, photo of ID will have to be provided to receive discount code.
Who should attend?
Managers/HR Leaders/Consultants working with remote colleagues.
Agile Practitioners (Scrum masters, Agile coaches)
Virtual meeting facilitators
Remote team members
Persons aspiring to work in a remote/hybrid environment
People with an experimental mindset and a willingness to try new things
Join this workshop if you want to:
Build a productive remote or hybrid workspace
Improve communication and avoid misunderstandings
Reduce the meetings you need; improve the meetings you have
Find connection and create that sense of togetherness online
You will walk away with:

Access to workshop slides and videos
Handouts & guides for team agreements, remote meetings, feedback, etc.
Stress Management Journal that can either be printed or completed electronically.
Module/Session 1
How to establish a basic set of guidelines for working together on a remote team
Common communication protocols for remote working
Tools for capturing team agreements
Module/Session 2
Best practices and tools for seamless online collaboration
Ways to combat the "out of sight, out of mind" mentality
Simple tips for increasing camaraderie and the sense of team/togetherness online
Module/Session 3
How to choose and effectively use online meeting technology
Common communication protocols for effective remote meetings
How to facilitate interaction and participation, and minimize distractions and multi-tasking
Module/Session 4
Techniques for rapid, continuous feedback
How to set up 360 degree feedback systems so that colleagues and managers can more frequently measure each others performance
Tools for showing appreciation
How to conduct remote retrospective
Workshop Discounts:
If you qualify for a workshop discount, please reach out to us at training@stragilitymatrix.com, and we will provide you with additional details.
If you register 1 additional person, you get a 50% discount.
If you register 2 additional people, your ticket is free.

Cancellation Policy:
If cancellation of your registration is required, please send us a written notification at training@stragilitymatrix.com, mentioning the name of the workshop in the subject line of your email.
We will refund 100% for cancellations received 2 weeks before the workshop.
We will refund 50% for cancellations received 1 week before the workshop.
We will issue no refund for cancellations received within 48 hours. However, you'll have the option to reschedule your attendance to the workshop for a later date.
N.B: Invoices must be paid before the workshop starts!
Online
July 10, 11:00 —
July 14, 12:30 AST