Team Building: Identity and Working Agreement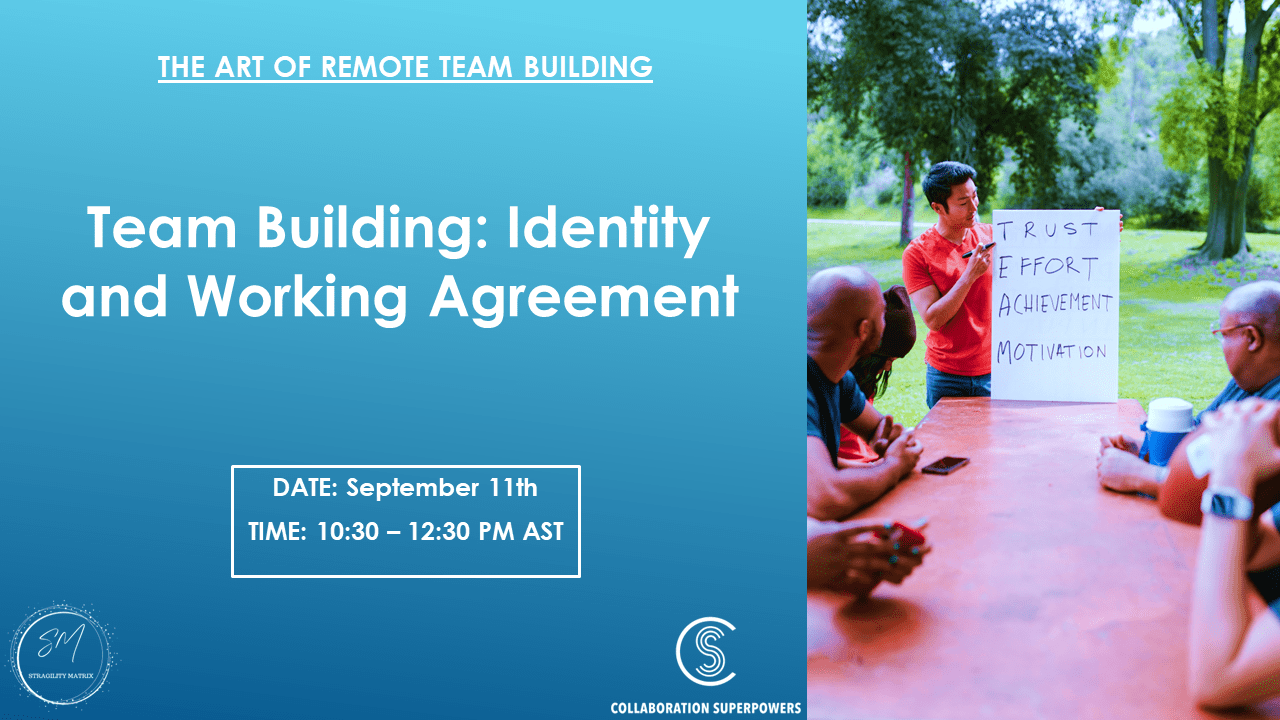 Online
September 11, 10:30 — 12:30 AST
The Art of Remote Team Building

Series Description:
In today's increasingly remote work environment, team building has never been more important. Building a strong, cohesive team is essential for maintaining productivity, boosting morale, and achieving success. But how can you build a great team when you're not in the same room? That's where "The Art of Remote Team Building" comes in.
This course series is designed to equip you with the tools, techniques, and strategies you need to build and maintain a high-performing remote team. Through a series of interactive and engaging courses, you'll learn how to overcome the unique challenges of remote team building, foster communication and collaboration, build trust and rapport, and create a culture of success.
Course Title: Team Building: Identity and Working Agreement
2-hour interactive online training
We will meet from 10:30 - 12:30 PM AST (Atlantic Standard time, check your time zone HERE)
Course Description:
Teamwork is essential to achieving success in any organization. However, building a high-performing team requires more than just assembling a group of individuals with different skills and talents. It involves creating a shared identity and establishing a clear understanding of how the team will work together towards a common goal.
In this course, you will learn the fundamental concepts of team building, including the importance of creating a team identity and establishing a working agreement. You will explore various strategies for building a cohesive team, developing effective communication, and resolving conflicts.
Throughout the course, you will engage in interactive activities, case studies, and group discussions that will enable you to apply the concepts and skills covered in the course to real-world situations.
Learning Outcomes:
Understand the importance of team building and its impact on organizational success
Develop strategies for building a cohesive team
Create a team identity that promotes collaboration and productivity
Establish a working agreement that outlines team roles, responsibilities, and expectations
Develop effective communication strategies to enhance team collaboration
Learn conflict resolution techniques to address team conflicts and maintain a positive team dynamic.
Target Audience:
This course is designed for anyone who wants to improve their team building skills, including managers, team leaders, project managers, human resources professionals, and anyone who works in a team-based environment. Whether you are new to team building or looking to enhance your existing skills, this course will provide you with the essential knowledge and skills to build a high-performing team.
Workshop Discounts:
If you qualify for a workshop discount, please reach out to us at training@stragilitymatrix.com, and we will provide you with additional details.
If you register 1 additional person, you get a 50% discount.

If you register 2 additional people, your ticket is free.
Cancellation Policy:
If cancellation of your registration is required, please send us a written notification at training@stragilitymatrix.com, mentioning the name of the workshop in the subject line of your email.
We will refund 100% for cancellations received 2 weeks before the workshop.

We will refund 50% for cancellations received 1 week before the workshop.

We will issue no refund for cancellations received within 48 hours. However, you'll have the option to reschedule your attendance to the workshop for a later date.
N.B: Invoices must be paid before the workshop starts!
Online
September 11, 10:30 — 12:30 AST