ICEBREAKERS PLAYGROUND: Break the ice with us!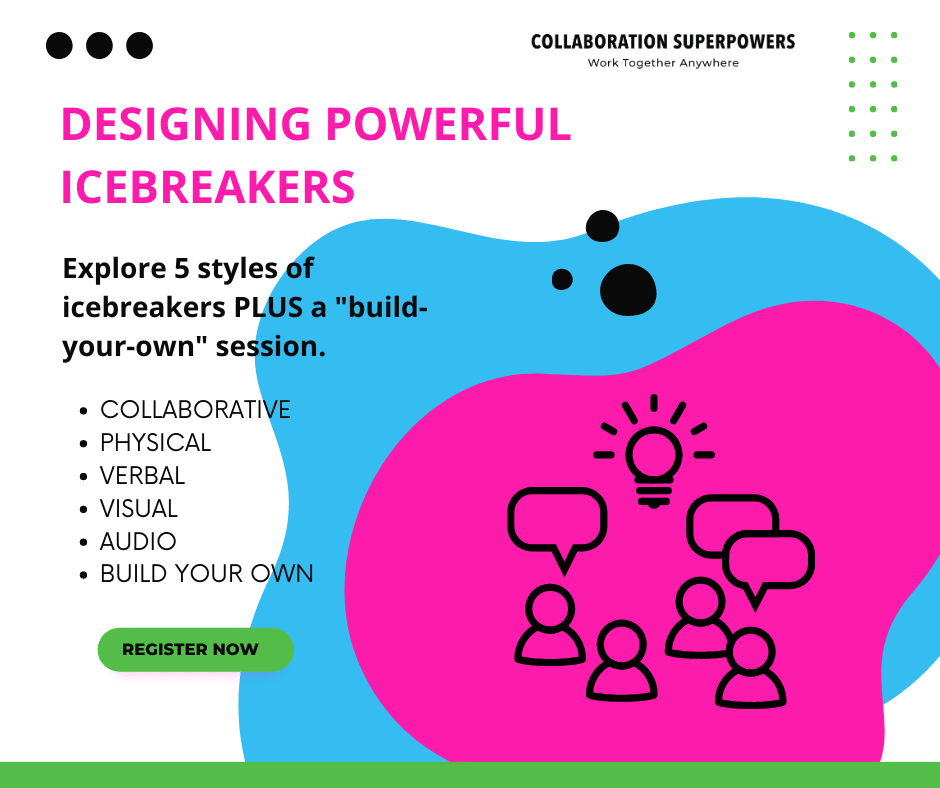 Online
June 20, 16:30 — 17:15 CEST
THE ICEBREAKERS PLAYGROUND
Exploring different icebreaker styles and their impact on group dynamics
Tuesday, 20 June 2023
16:30 - 17:15 CEST (Amsterdam time)
€9 to reserve a spot (CS Facilitators join for free)
The key to a good icebreaker is to make it relevant to the event. What should the icebreaker achieve?
In this experimental and interactive session, we will dive into the world of icebreakers and uncover the power of different styles in shaping group behaviors.
We'll try at least 2 different icebreakers in every session and then debrief together as a group. Think of it like an icebreaker sampler! There will always be icebreakers prepared - AND - you are welcome to bring your own to try! We vote as a group when there are too many to choose from.

Here are some of the styles we play with
Collaborative: Discover the benefits of tapping into the group's collective intelligence and leveraging teamwork for creative ideation and problem-solving.
Physical: Explore how body language and movement can provide feedback, establish connections, and create a dynamic and engaging group environment.
Verbal: Enhance your verbal communication skills and learn techniques for effective facilitation and guiding discussions to foster meaningful interactions among group members.
Visual: Unleash the power of visualization by using visual aids and techniques to enhance understanding, creativity, and engagement.
Listening: Learn the art of active listening and how it can contribute to enhanced problem-solving skills.
Build Your Own: Get creative and design your custom icebreaker tailored to your unique group dynamics, goals, and facilitation style.

Specifically, you will:
LEARN: Discover different styles of icebreakers and their impact on group behaviors.
DESIGN: Engage in a hands-on exercise to design an icebreaker with a group.
DEBRIEF: Reflect on the pros and cons of each icebreaker style and explore best practices for facilitating successful icebreaker activities in a debrief session.
AUDIENCE
This workshop is perfect for team leaders, trainers, and meeting facilitators seeking practical techniques for creating a positive and inclusive group environment.
This workshop will empower you with a diverse repertoire of icebreaker styles to elevate your facilitation skills and enhance group interactions.
Online
June 20, 16:30 — 17:15 CEST