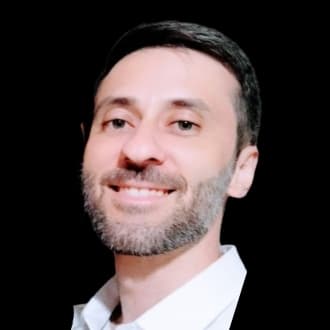 Jose Gabriel Barreto Gaby
Brazil
Sou facilitador e ajudo as equipes e toda a liderança com ferramentas e práticas para aumentar a felicidade, motivação e com alto desempenho em ambientes complexos e transformadores.
Meu objetivo é ajudar as pessoas e empresas a transformar suas vidas e seus negócios através do conhecimento.

Como atuo? Com workshops, treinamentos, consultorias e palestras focadas em inteligência emocional, comunicação, gestão, performance e agilidade.
+ de 16 anos de experiência com projetos em grandes empresas dos setores: Financeiro, seguro, atendimento, comunicações, investimentos e consultorias de projetos e agilidade para TI negócios.

Imerso há mais de 6 anos em pura agilidade, ajudando empresas e pessoas a alcançarem novos patamares com as novas experiências em Business Agility, Transformação Ágil, Transformação cultural e alta performance.
Atualmente atuo na maior transformação de agilidade da américa latina no Itaú Unibanco.
Marido da Natália e Pai da Clara, busco com o meu trabalho, transformar a vida das pessoas para que assumam seu posto na vida e no trabalho, focando em emergir o melhor delas em todos os seus pilares.
Um pouco mais sobre mim:
Graduado em Analise e desenvolvimento de Sistemas
Pós Graduado em Psicologia
Cofundador de duas consultorias de treinamentos e Fundador da Gaby Academy.
Escritor de 2 capítulos no livro de liderança ágil
+ de 40 certificações de transformação ágil e pessoas
Especialista e comunicação
Conheça minhas redes sociais e treinamentos em: https://linktr.ee/josegaby
Empreendedor | Growth | Liderança | Transformação | Management 3.0 Facilitador | Agile Coach Facilitador | OKR Facilitador | Design Thinking | Mentor | Facilitador Corporativo | Creator | Agile Coach
Atuando na maior transformação de agilidade da américa latina
Agente de Transformação Sênior (Agile Coach) focando nas altas lideranças de negócios, tecnologia e times empoderados. Criando estratégias de negócios e propósitos.
Visão estratégia / OKR / Definição de propósito / Problem Solving / Bloqueadores / Designer comportamental / Lean Change Management / Leitura de contexto / Cynefin / Complexidade / Gestão de polaridades / Product Leadership / Behavior / Sensemaking / Pensamento sistêmico / Jornada do cliente / Management 3.0

--------------------------------------
English version

I'm a facilitator and I help teams and all leadership with tools and practices to increase happiness, motivation and high performance in complex and transformative environments.
My goal is to help people and companies transform their lives and businesses through knowledge.

How do I act? With workshops, training, consulting and lectures focused on emotional intelligence, communication, management, performance and agility.

+ 16 years of experience with projects in large companies in the sectors: Financial, insurance, customer service, communications, investments and project consulting and agility for IT business.

Immersed in pure agility for over 6 years, helping companies and people to reach new heights with new experiences in Business Agility, Agile Transformation, Cultural Transformation and high performance.

I am currently working on the largest agility transformation in Latin America at Itaú Unibanco.

Natália's husband and Clara's father, I seek with my work to transform people's lives so that they assume their role in life and work, focusing on bringing out the best in them in all its pillars.

A little more about me:

Bachelor of Systems Analysis and Development

Post Graduate in Psychology
Co-founder of two training consultancies and Founder of Gaby Academy.
Writer of 2 chapters in the Agile Leadership Book
40+ agile and people transformation certifications
specialist and communication
Discover my social networks and trainings at: https://linktr.ee/josegaby

Entrepreneur | Growth | Leadership | Transformation | Management 3.0 Facilitator | Agile Coach Facilitator | OKR Facilitator | Design Thinking | Mentor | Corporate Facilitator | Creator | Agile Coach

Acting in the biggest transformation of agility in latin america

Senior Transformation Agent (Agile Coach) focusing on senior business, technology and empowered teams. Creating business strategies and purposes.
Strategy Vision / OKR / Purpose Definition / Problem Solving / Blockers / Behavioral Designer / Lean Change Management / Context Reading / Cynefin / Complexity / Polarity Management / Product Leadership / Behavior / Sensemaking / Systemic Thinking / Customer Journey / Management 3.0