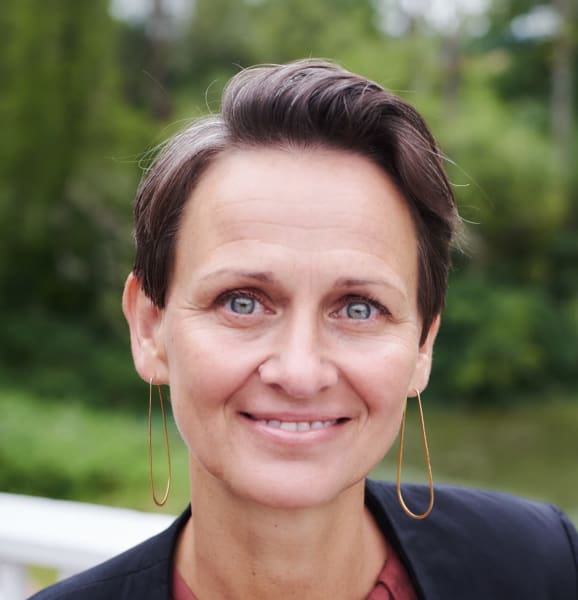 Line Mørkbak
United States of America
Rating for public events
based on 48 evaluations
Energetic. Thoughtful. Knowledgeable. When glitches took place, she modeled the right kind of behavior -- calm, flexible, rolled w/ it.
Engaging, interesting, knowledgeable, and fun. Line really cared about us and created a safe fun learning experience.
Christine Brautigam Inspired Agility
Open, flexible, great communicator, fun, knowledge, experience
Richard Scott-Will-Harknett Xero
Organized, engaged, energized, positive, insightful, responsive
Expressive, organized, curious, and role modeling every behaviour she suggested.
Knowledgeable, energetic, engaging, demonstrates and puts into practice the theoretical knowledge
She is enthusiastic and knows her material. She also provides a variety of tools and isn't tied to one or the other.
Maureen Nonnenmann The Plaster Group
Offered a lot of insights and experience Setup good interactive training sessions
Martin Ströbele Freelance Consultant
- sophisticated yet pramagtic mentality - very very excellent methodology
very saavy regarding topic of workshop, very interactive session, well prepared, welcoming - symphatic and encouraging
Sabine Wagner communication is life
Very friendly, warm, inclusive.
very well prepared before and during the sessions. excellent training from the back of the room techniques. easy to understand. very inclusive in terms of engaging with all of the participants.
has lots of updated knowledge about this field, which was great. has excellent facilitation skills. great to make the webinars interactive.
Annette Dahl C3 Consulting ApS
Line gave clear guidance at a good pace. She connected with all of the participants with empathy and a proactive problem-solving approach.
Ann Cherin Equal Exchange
Line is experienced practitioner that can provide useful tips good communication skills
She was incredibly engaging, patient, and took her time explaining even the layout of each session.
Laura Bechard Equal Exchange
Organisation Clarity Presence
Sharon Dale 21st Century Mindset
Great presence, extremely helpful, presented in a way that worked for how I learn
Sharyn McWilliams Equal Exchange
Very clear communication. Solid knowledge of the subject. Engaging.
Kim Slade Touch Video Academy /Unknown Epic
Line was very energetic and made the course fun and engaging.
Rachel Traver Equal Exchange
Line had a clear plan and transparency to her practice that helped model what we were trying to learn.
Line is very articulate, easy to understand. I liked that the workshop had a lot of practical exercises incorporated and we were "learning on the go", using different tools and techniques throughout those 4 weeks....
Eager to understand and help Enthusiastic and passionate Inclusive Flexible
Engaging, enthusiastic voice.
Peter Nielsen Coaching our Globe
Line was warm and inviting, and tailored the course to the participants' questions and areas of interest.
Iris Chung General Assembly
Patience, compassion, ability to connect with others. Communication style and flexibility. As an instructor, good room presence, timing and flow of the sessions.
Matt Badgley BluHound Solutions
Openess Getting a virtual team to bond quickly with people they have never met Highly competent in facilitating with technology Patient and non-judgemental
Donna-Marie Jørgensen Culture Code
Engaging, attentive, helpfull, present
Knowledge of the topic Good communication skills Promote participation
Lucia Rodriguez Wu Lava Innovation
Clarity Empathy Mastery of the subject
Carlos Valenzuela Martinez EUREKA
Mood, fluency with virtual enviroments
Rafael Puerto Rebel Talent
Lina was very welcoming. Everyone felt very comfortable to contribute. I loved!
Fabiana Mello Fabiana Mello Treinamento EIRELI
Joyful, knowledgeable, dynamic
Mood, expertise, communication and much more
Rafael Puerto Rebel Talent
Smooth, nice, human, cheerful, responsive, knowledgeable
Vassilis Chantziaras Self Transformed Ltd
How she managed to keep the group connected and get everyone involved to share their experiences
Great way to interact with the participants, vast array of knowledge
Monika Steininger Monika Steininger TCC
Line is very well prepared and goes out of her way to put everyone at ease and feel prepared themselves.
Daniel Woodward Remedy Labs Ltd
Created space, ensured we all were engaged.
Knowledgeable on the subject. Knows many tools that she challenges us to try out. Great example herself in the way she runs the classes.
Engaging, energetic, caring
Learner centred, positive, approachable, able to model behaviour needed for virtual delivery , expertise knowleadge, able to respond to questions and make virtaul learning fun
listen carefully, open to new ideas, expert about virtual facilitation, warm, kindness.
Tarcila Shinno Banco de Credito del Peru - BCP
Senior Business Consultant + Interculturalist + Global Facilitator & Speaker. I have 10+ years experience in leading, developing, and delivering cross-cultural learning solutions (f2f and engaged virtual learning sessions) to global organizations and their teams. Within the last years my curiosity has driven me towards Improv as a learning tool, innovation processes, Agile Management, and Design Thinking. Originally from Denmark, lived globally for 21 years, current home in rural setting east of Portland, OR
Rating for public events
based on 48 evaluations